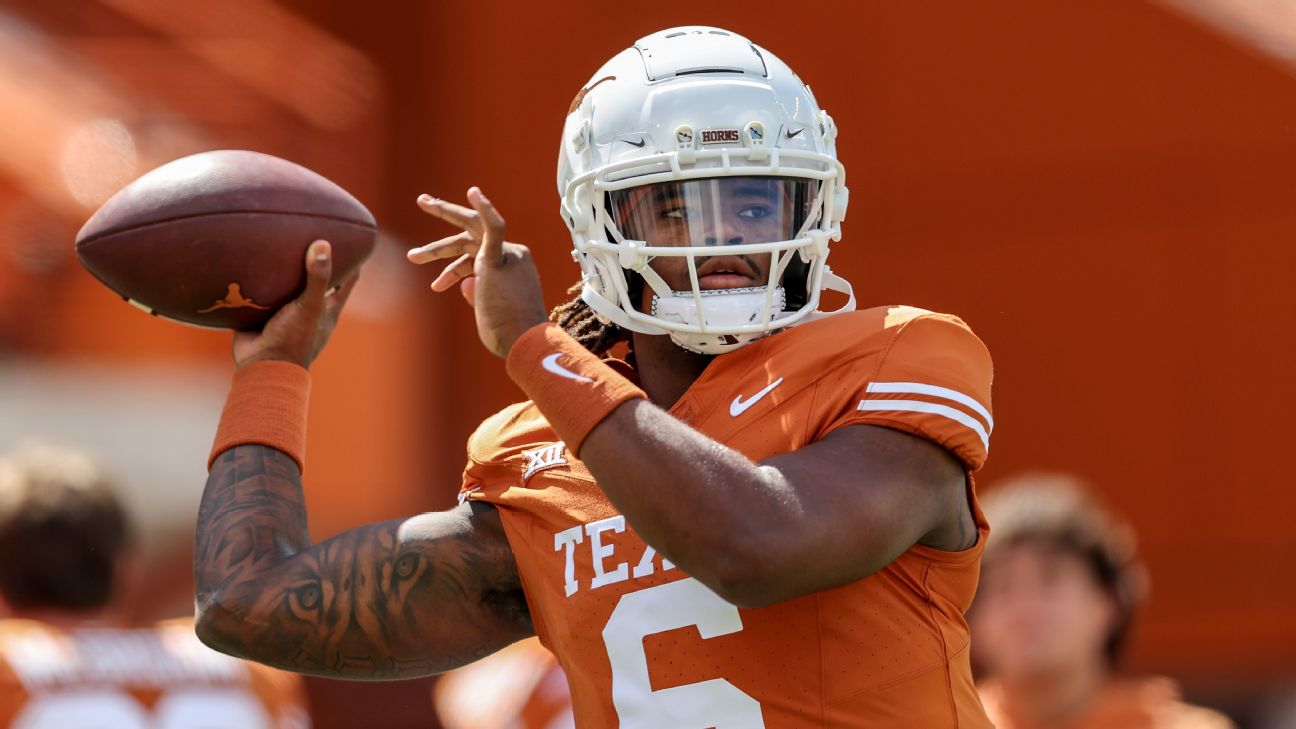 AUSTIN, Texas — Texas head coach Steve Sarkisian said Monday, he expects Maalik Murphy to step into the starting quarterback role this week against BYU, as Quinn Ewers recovers from an injury to his throwing shoulder.
On Sunday, sources confirmed to ESPN's Pete Thamel an Orangebloods.com report that Ewers suffered a grade 2 AC joint sprain in his right shoulder during the No. 7 Longhorns' win over Houston on Saturday night and is expected to miss time. Sarkisian said Ewers would be week to week but did not offer a more specific timetable.
"These injuries, some guys come back sooner than others," Sarkisian said.
Ewers appeared to get hurt on a third-quarter drive when he was first sacked and then later took a hard hit on his left shoulder and landed on his right side.
Video of the second hit shows Ewers using his right arm to get up from the ground. He still threw two more pass attempts before leaving the game.
"He tried to play," Sarkisian said. "That last drive he was not healthy. To his credit, he knew, 'I don't think I can do it.'"
Ewers has passed for 1,915 yards and 13 touchdowns this season. He also has become a running threat with five touchdowns, including two from 29 and 30 yards. He had his right arm in a sling by the time he left the stadium.
The injury is the second to send Ewers to the sideline in the past two seasons. A sprained clavicle joint sustained against Alabama knocked him out of that Sept. 9 game and the next three.
Last season, Texas had experienced backup and former starter Hudson Card to step in, but he transferred to Purdue.
Murphy and top recruit Arch Manning will get plenty of snaps in practice to prepare for the game, Sarkisian said.
"If the game was being playing today, Maalik would start," Sarkisian said. "Arch will be ready to go."
Murphy finished Texas' 31-24 victory over Houston after Ewers left the game in the third quarter Saturday.
Murphy completed 1 of 2 passes for 7 yards against Houston, and he directed the Longhorns on what ended up being the game-winning touchdown drive.
A freshman redshirt in 2022, Murphy held off Manning, an early enrollee, this spring and summer to hold on to the No. 2 job. Murphy has appeared in four games in mop-up duty but is just 4 of 8 passing overall. Manning has not played yet.
Sarkisian called both "elite competitors."
"Maalik a natural passer. He throws a very beautiful ball," Sarkisian said. "There's not a throw he can't make."
Information from The Associated Press contributed to this report.