On the 10th birthday of Jacksonville's love affair with London it took their impressive defense forcing a less than stellar visit from the Atlanta Falcons to finally make their decade-long entanglement feel worthwhile on the field rather than just their back pocket.
The linebacker Josh Allen's three sacks and a forced fumble led his team's fierce defensive effort while back-to-back opening half interceptions were crucial to a 23-7 win as they look ahead to next week's meeting with the Buffalo Bills, another landmark as Jacksonville play back-to-back clashes in the capital for the first time.
While the Jaguars will be thrilled to get back to an even 2-2 on the year, Jacksonville's coffers are still very much at the heart of proceedings as their easy win brought up another first for the team. In a new commercial dawn where the Jaguars are the sole beneficiary of ticket sales, merchandise and concession revenue, proceedings were treated like any Sunday at EverBank Stadium in Florida, which has about 65,000 seats compared to Wembley's 90,000. The math of the considerably higher ticket prices here and a willing audience is quite simple.
But after all the furiously manicured hype of a manufactured anniversary, the quarterback Trevor Lawrence delivered with an exquisite 22-yard improvised run and an off-the-cuff pass that would lead to the former Falcons receiver, Calvin Ridley, score the game's opening touchdown. The quarterback showed no fear to throw an incoming Falcon off course with a feint and then sail a 30-yard rainbow to Ridley before being flattened by another onrushing defender.
Atlanta meanwhile wilted in the face of Jacksonville pressure as they handed the ball back to the Jaguars for a second time. Allen would mark the stop with a first sack of Falcons' quarterback Desmond Ridder. Lawrence then found success again with a 30-yard haul to Christian Kirk as the Falcons' backfield again left a receiver in open air to easily make a catch as a slowly simmering first quarter neared its close. Unfortunately a sloppy offensive holding penalty would take the heat out of their attack and leave them to settle for a 56-yard field goal from Brandon McManus as the second frame began. Positive enough though. A decade in and fittingly they had a 10-0 lead.
The Floridian vibes were in full flow as the sun kissed the Jaguars' backs while they found further dominance on defence through a familiar method. The bulldozing Allen brutalised Ridder again to clip the Falcons' wings and force another punt. Atlanta would then begin to move the ball through the concussive force of rookie running-back Bijan Robinson only for Ridder to throw an interception gleefully returned 61 yards by Darious Williams for a touchdown and a 17-0 lead.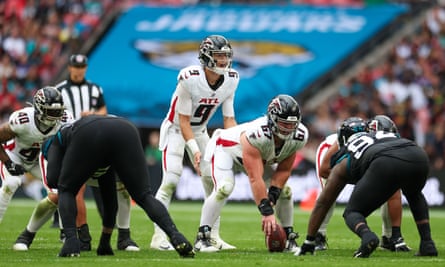 Ridder's afternoon would only get worse. His next throw was intercepted again, this time by Andre Cisco. The crowd erupted in shock at how easy Atlanta and the moribund Ridder were making this. Some air finally was let out of the balloon though as poor play calling from the Jaguars led to a turnover on downs deep in Atlanta territory. An opportunity to completely kill the game was lost but, as the half drew to a close, Atlanta's 14 minutes of possession with only 77 yards of total offence showed how badly they were being made to misfire.
But a new half delivered fresh hope and a 15-yard touchdown from Ridder to Drake London put them on the board at 17-7. The scoring position granted by a 38-yard rumble from Robinson. It took until the second period to get their most impressive piece in the game but even at this relatively early stage it felt too late. Robinson was quickly back in the spotlight as he took the ball off his own goalline and found a crucial Atlanta first down. The running-back next found the edge to power up the sideline for 21 yards but the Jaguars still had enough force to halt any further inroads.
Lawrence then took over again, leading the Jaguars back deep into enemy territory with a 19-yard pass and a 10-yard scramble, only for a 35-yard toss to be batted off the fingertips of JaMycal Hasty in the endzone. Jacksonville settled for a 43-yard McManus field goal bumping the advantage to 20-7.
The Falcons had the very faintest of hope in only being two scores down with 10 minutes still to play but their misery in attack would be neatly underlined as the 6ft 4in London soared into his namesake's sky only to catch the ball for a touchdown but step out of bounds. Ridder found his man on one of his very few effective drives but the receiver could only tap a second foot off the field leaving him to hang his head on the sideline and any chance of victory up for the Falcons. Jacksonville would again use McManus's boot for a 38-yard set of three before Allen's sack of Ridder forced a fumble from the quarterback to tie a bow on his fantastic afternoon and his team's win.
Allen and his defence will no doubt be thrilled they can keep rolling next week and turn things up to 11 for the Jaguars over in north London.